BACK to MAKE IT BE page
mAKE iT bE reviews

---
---
---
STEREO EMBERS MAGAZINE 26 March 2017
A Sheer Giddy Triumph of Deliriously Off-Kilter Power Pop – "Make It Be" by R. Stevie Moore & Jason Falkner
R. Stevie Moore & Jason Falkner
Make It Be
Bar None Records
Written by: Dave Cantrell

Forget Robert Pollard. He may bear a more prominent media profile – a constant line of which is his prodigious work ethic – but the true living definition of 'prolific' is R. Stevie Moore. A seasoned skewed-pop superpower, RSM doesn't just tower of the GBV honcho but completely obliterates him, blots out his sun.

At it since 1968 (his 16th year), with his first release – a cassette called On Graycroft – dropped on an unwarned public a year later, Moore has perfected over the roll of subsequent years the art of being impervious to the demands of standard commercial viability. Like the Sun Ra of canon-tinged pop rock – let's, for the sake of rhetorical convenience, consider Moore's league-of-its-own style niche as 'British Invasion tweaked by a midwest American flange' – our R. Stevie has contented himself with growing his minstreled career via countless self-produced, self-released albums and EPs and cassettes – somewhere north of 400 at last estimate – all largely outside the clawing machinations of 'the industry.'

A strategy of necessity at the very beginning, it no doubt dawned quite early on the young RSM that the quality of the songwriting spilling through that ceaseless wave of product, infectious idiosyncracies and all, was a sufficient enough calling card in itself to ensure his reputation preceded him. Thus, with the help of that healthy persistence and persistent good health – 'RSM' may as well stand for 'Rock Solid Metabolism' – Moore wandered with haste into his current status of incomparable DIY legend, a one-man contagion of joyously relentless hooks and not infrequently ebullient melody, even if, with a matching frequency, the sentiments astride those hooks and melodies can easily tend toward the slyly antisocial and sarcastic (ref. Make It Be's first track "I H8 PPL" – "no exceptions" – for a neat summation of this, shall we say, 'jocular curmudgeonly' persona).


More often pairing with a collaborator for singles and 12″s than full LPs – the small handful of which up to now includes Dave Gregory and Jad Fair – it's not only not a great surprise that Moore has allied with Jason Falkner to be his next pop partner extraordinaire (it's no stretch to imagine either Paisley Undergrounders The Three O'Clock or 90's indie-poppers Jellyfish as R. Stevie's backing band a la the Posies as Chilton's Big Star), it should also shock a negative number of people that the resulting effort is a sheer, giddy triumph of deliriously off-kilter singer-songwriter power pop that manages the tricky business of twining the two credibly legendary strands of cult-adored DNA into a conjoined monster of faultless, 70's-kissed American rock'n'roll. Indeed, one only need (if one's in a hurry, say) cozy up to Make It Be's initial troika of bleeding-together tracks to confirm that appraisal.

The textese-titled opening salvo mentioned above could in fact be Big Star on a cheery merry-go-round of rollicking misanthropy, exhibiting a similar level of that Ardent breakneck restraint that left us breathless in the first place. A synth then takes our ticket and ushers us in to the Falkner-sung, Moore-composed (in 2006) "Another Day Slips Away" that, aside from extolling the virtues of living for the moment, also invites us to listen as the Beach Boys play a little Game Theory with the Raspberries, not something we'd set out wanting to hear but end up quite grateful nonetheless. That that tasteful remoulade leaks and morphs into the dextrous ramalama-lite of "I Love Us, We Love Me," the prototypical Stevie lyric – lustrous, indefatigable, and ultimately healthy pop self-idolatry – lends concise, flowing proof, if any were needed, to the punk Santa-looking gentleman's irrepressible prowess.

While a true collab in every other defined way – Falkner and Moore jointly produced and are responsible for every noise the album makes save Aaron Roche's trumpet on the strikingly playful take on Huey 'Piano' Smith & the Clowns' "Don't You Just Know It," equal parts jukebox pastiche and ramshackle homage – writing-wise the bulk tilts Moore-ward, meaning essentially a melee of syncretic pop varietals, an unsubtle indications, as all his records are, that the guy's a voracious repository of late 20th c. popular music and all the influences that accrue. Like a rock'n'roll Whitman, the dude contains mulitudes, evidenced here by that trio of starters (for starters), the punky post-Adolescent "Stamps," the (from 1977) exuberantly maladjusted first segment of (sound-it-out) "If You See Kay/Run For Your Lives!" that suggests the Zombiefication of – who else! – GBV, showing that same kind of crafty zest as turned by the hand of an offhand classicist. Then, with "Play Myself Some Music," comes the inevitable return of the Brian Wilson-via-Todd Rundgren mojo, possibly this album of gem's most affecting gem, glowing from the inside with a melancholy light.


But of course what's plainly extraordinary here is, despite Moore's long experience and the command that's thus developed, the tracklisting – that Huey Smith and a few spoken-word or guitaring interludes aside – is a flowing parade of continuity. Without the song credits published inside the cover you'd lose every bet you made as to who wrote what or whether in partnership or solo, the pair's 16-year age difference melting invariably into the common bubbling stew of pop rock hook and seduction. The Byrds-play-nightmare lounge of instrumental "Gower (Theme from a Scene)," "Sincero Amore"'s lilting downtempo almost-ballad that sports a melody as lush and natural as anything in the Fannies' repertoire (while adding, what the heck, some crying George Harrison guitar inflections cuz why not), even the synth-peppered technoid diversion "That's Fine, What Time?" that somehow sounds like Kraftwerk if they'd come out of Rockford Ill – and contains the album's choicest lyric: This is my time / for the tight-lipped move-along look – all of them, though written together, could have been penned alone by either. Such is the unforced dovetail nature of these two talents that the lone Falkner-only composition, "Horror Show," that finds the Who moving out of the way for the Move, distinguishes itself by being indistinguishable from the excellent whole.

R. Stevie Moore's story has been one of uninterrupted heydays piling one atop the other with no time for creative dips (Slumps Are For Chumps is my nomination for the man's eventual monster box set), a tale of endurance and, frankly, an incorrigible intelligence (ie 'pop suss') that an ever-dwindling precious few others can match. It's listening to Make It Be that one realizes that Jason Falkner is one of them.

http://stereoembersmagazine.com/sheer-giddy-triumph-off-kilter-power-pop-make-r-stevie-moore-jason-falkner/
---
STEREOPHILE.COM
R. Stevie Moore & Jason Falkner: Make It Be
By Robert Baird • Posted: Feb 10, 2017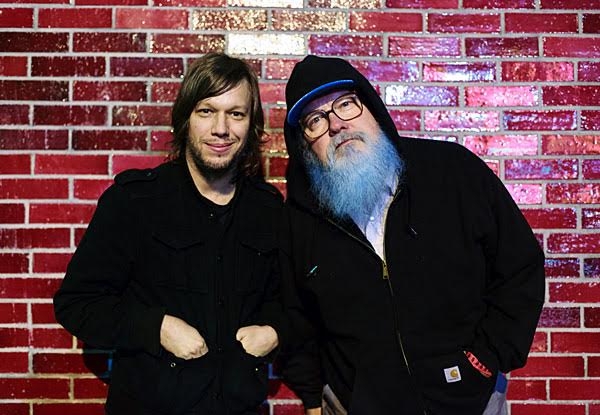 At first glance the pairing of R. Stevie Moore (right), the Nashville born/New Jersey-residing DIY legend who over the past several decades has released literally hundreds of cassettes—and, to be fair, some records he actually worked on—and Jason Falkner (left), the always brilliant, sometimes cranky, LA pop auteur behind Three O'Clock, Jellyfish and The Grays (with Jon Brion), a couple of great solo records, and contributions to records by Beck, Aimee Mann, and AIR, seems fairly odd. But once you listen to Make It Be, these two triangular pegs actually fit into their own unique space that's neither round not square. What might have been a collision is actually a meld. Moore's bizarre rantings, like the opener "I H8 PPL," whose title is shorthand for a chorus that just repeats "I hate people," become in Falkner's sharp- edged, hi-fi, power-pop world, a peppy up-tempo, if acerbic, pop tune.

Falkner's arranging here is breathtaking. Many bases are touched along the way. "Another Day Slips Away" crosses 1980s Anglophilic instrumentation with a bit of Joe Jackson bombast. In "That's Fine, What Time?", Moore speaks a monotone over programmed electronica, keyboards and drum machines of "the prospect for growth at the end of life," and "I accept the risk of nocturnal emissions." Loud rock guitars and power chords make a steamroller out of "I am the Best for You," in which Moore shouts the verses and sings the choruses. Falkner also sings some of Moore's tunes as in "Play Myself Some Music," in which he explores playing LPs and trying to pretend "I did not lose you." And so it goes.

Lest anyone forget that Moore is the progeny of Nashville-based, first-call bassist Bob Moore, who worked with everyone from Elvis Presley to The Boston Pops to Bob Dylan, the pair thrown in a fairly straight recording of Huey "Piano" Smith's NOLA novelty, "Don't You Just Know."

Sustaining this experiment over 18 tracks is too much to ask and cuts like "Passed Away Today," drift into indolence and directionless noodling. But everything here is short, cut into small bites, which effectively combats the excess Moore can slide into when he's by himself. Overall, a very listenable partnership, one that shows how experimental Falkner can be and how conventional Moore's music is when actual arrangements are applied.

Read more at http://www.stereophile.com/content/r-stevie-moore-jason-falkner-make-it-be#XVOavCvh33BbwAXC.99
---
---
BROOKLYN VEGAN
R Stevie Moore & Jason Falkner ready LP 'Make it Be' (listen to "I H8 Ppl")
By Bill Pearis January 13, 2017 11:01 AM

R Stevie Moore is the prolific king of low fi, having released hundreds of cassettes over the last 50 years. Jason Falkner has made highly orchestrated pop with Jellyfish, Eric Matthews, and Beck (not to mention some wonderful solo records, like 1996's Author Unknown). Put them together and you get Make it Be, their wonderful collaborative album that will be out March 10 via Bar-None.

Working mostly with songs R Stevie had already written, the pair made the record at Jason's studio in LA over the course of two weeks with Falkner continuing to work on it after Moore departed. "Recording with Jason was a dream, totally incredible, we showed a similar sense of both crazed adventure and textbook pop discipline," says Moore. "The sessions moved fast, just gleefully piling on overdubs. I am grateful he allowed me to just dive into any left-field idea I felt. JF's a marvelous producer and killer drummer, but I don't think he usually gets quite as much creativity to tinker with as he did with me. Time was tight, so we didn't get to dig much deeper and really stretch out with more brand new co-writing as we desired. Hope that happens someday."

There is no better example of this peanut butter cup collision than album opener "I H8 Ppl," a bitter power pop pill that is both polished and rough around the edges, complete with a killer chorus. The song premieres in this post and you can stream it below. Make it Be can be preordered now (physical/digital). Will Jason and R Stevie be playing shows? Nothing concrete yet apart from SXSW. Album art and tracklist are below.

http://www.brooklynvegan.com/r-stevie-moore-jason-falkner-ready-lp-make-it-be-listen-to-i-h8-ppl/
---
---
WWW.WBEZ.ORG CHICAGO
Jim DeRogatis
Lo-Fi Legend R. Stevie Moore
Collaborates With Jason Falkner For
An Outsider Pop Gem
Jim DeRogatis
February 23, 2017


Though he doubtless enjoys the stray critical praise he sometimes garners and the long-standing support he's earned from adventurous radio—New Jersey's legendary bastion of free-form weirdness WFMU-FM has always been a big supporter—the lo-fi home-recording pioneer and celebrated veteran of outsider music R. Stevie Moore has never really needed broader validation: He's always seemed happy just to make a joyful noise in his own gonzo playpen, at a rate that makes the words "absurdly prolific" seem like a ridiculous understatement. (He's issued some 400 D.I.Y. releases since 1968, according to The New York Times.)

Nevertheless, overdue validation as a twisted but tuneful pop craftsman is exactly what the son of renowned Nashville session bassist Bob Moore (Elvis Presley, Bob Dylan) gets from a reigning hero of power-pop, Jason Falkner of that genre's heroes Jellyfish, the Three O'Clock, and the Grays, via the new collaboration Make It Be, an odd but instantly endearing pop gem forthcoming via Bar-None Records on March 10.

A big fan, Falkner opened his L.A. studio to Moore for two weeks, and it was a considerable step up from the taped-in-a-cluttered-corner settings that the latter has favored for nearly half a century. To be sure, we still get some fuzzy home-cassette strangeness—that is, unless the Brian Wilson of Bedroom Auteurs now favors a cell phone or digital recorder. But Falkner's vaunted chops as a multi-instrumentalist, expert arranger, and studio wizard help Moore raise his game with delightfully catchy yet typically idiosyncratic tunes such as "I H8 Ppl," "Sincero Amore," "Play Myself Some Music," and "If You See Kay/Run for Your Lives!"

Always an encyclopedic mixer-and-matcher of a century of pop styles, Moore gleefully jumps from Krautrock/Eurodisco to Beatles-via-XTC pop, and from Syd Barrett psychedelic folk to alternative rap, among myriad other genres, styles, and eras, most often with an unfailing ear for killer hooks paired with lyrics charting a bizarre and cranky world view that more than ever seems perfectly in tune with our times. We even get a cover of Huey Piano Smith's "Don't You Just Know It," which underscores that throughout pop history, many of the weirdest but most wonderful voices have been relegated to the fringes, standing just off-stage but well deserving of their moment in the spotlight.

Maybe Moore will get his turn now; for this fan, Make It Be is his best collection since the 1984 French compilation Everything You Wanted to Know About R. Stevie Moore But Were Afraid to Ask, though I can hardly claim to have kept up with everything he's done (who could?). Then again, part of his charm is that he probably doesn't care, and will continue doing what he does regardless. "Sleep and eat/Love, work, and play/Another day slips away," Falkner sings in a tune Moore wrote about his modus operandi. "Give up, go home, make out, make art/In spite of no return." Long may he tape.


R. Stevie Moore/Jason Falkner, Make It Be (Bar/None)

Rating on the 4-star scale: 4 stars.

Follow me on Twitter @JimDeRogatis, join me on Facebook, and podcast or stream Sound Opinions.

#MOORE FALKNER POWER-POP LO-FI

https://www.wbez.org/shows/jim-derogatis/lofi-legend-r-stevie-moore-collaborates-with-jason-falkner-for-an-outsider-pop-gem/abd23aac-1d58-424a-915d-104e09d259f0
---
---
babysue LMNOP.com 20 Feb 2017
R. Stevie Moore / Jason Falkner - Make It Be (CD, Bar/None, Pop)
This is an interesting pairing...and the results are refreshingly genuine and thoroughly entertaining. Both of these guys should be instantly familiar to diehard music fans. R. Stevie Moore is one of the pioneering home recording musicians whose longevity and talent are known around the world. Jason Falkner is a power popster whose connections and credits are so lengthy and varied that just summing up his contributions becomes somewhat overwhelming. This album is a real gem. Our guess is that the humorously-titled Make It Be will forever be considered a high point in both of these men's careers. The album blasts out of the gates with the oughta-be-a-hit sounds of "I H8 Ppl." The track features a chorus so infectious that it will remain stuck in your head forever. Next up is the XTC-ish "Another Day Slips Away." At this point, most listeners will realize that Moore and Falkner are somewhat of a match made in heaven. Most of the songs are penned by R. Stevie but Jason is the co-composer on four tracks and presents one original that is solely his own (the ultra cool semi-psychedelic "Horror Show"). Make It Be is a creative and artistic success on many different levels. Truly inspired and inventive. Top pick.
*****
---
---
WIRE MAGAZINE (UK) ISSUE 397, MARCH 2017
R Stevie Moore & Jason Falkner
Make It Be
Bar None CD/DL/LP

Regular Wire readers will no doubt be
aware of the idiosyncratic lo-fi pop and
prodigious output of one-time cover star
R Stevie Moore. But who the fuck is Jason
Falkner? Fair question. Truth is, he's one
of the most gifted proponents of US power
pop ever to slam against the grey wall of
consumer indifference. Falkner has been a
member of Paisley Park proteges The Three
O' Clock, neo-bubblegum ensemble Jellyfish,
alt-supergroup The Greys (sic) and synth pop
revivalists TV Eyes; he's worked with Beck,
Air and Paul McCartney; he's released a
succession of near flawless solo albums and
EPs. Yet none of this has elevated him above
the status of cultish best kept secret.
. . . Make It Be arrives eight years after
Falkner's last high-ish profile appointment,
working with Daniel Johnston on the
oft-troubled singer-songwriter's
comparatively hi-fi album Is And Always
Was. Though it's tempting to draw parallels
between that project and this collaboration
with Moore, Falkner's involvement here far
exceeds the standard producer's remit,
extending top instrumentation, arrangements,
vocals and songwriting (seven of the album's
18 tracks are co-compositions while "Horror
Show" is Falkner's alone) thereby justifying
the equal billing.
. . . The initiative works. Falkner's
presence helps tighten up Moore's game
without diluting his essential weirdness
(mirthsome spoken word passages,
elegiac instrumentals and forays into
primitive synthpop see to that) while Moore
encourages the usually perfectionist
Falkner to cut loose and re-engage with
the taste for lo-fi leakage last evidenced
on his 2001 demo collection Necessity: The
4 Track Years. Neither artist cancels the
other out; instead the friction between,
for example, Moore's melodious splutter
and Falkner's mellifluous purr -- see the
dreamy but disturbed "I Love Us, We Love
Me" -- generates an electrical charge that's
sustained throughout the whole enterprise.
. . . Falkner and Moore are classicists at
heart, in thrall to a formula perfected in
the mid-to-late 1960s by The Who, The
Kinks, The Flamin' Groovies et al. But what
would seem tirelessly retro in lesser hands
is redeemed here by the forcefulness of
their singular artistic personalities, not to
mention songwriting chops that approach
the level of high magic. Given the success
of this experiment, it might be a good idea if
they kept hold of each other's digits.
Joseph Stannard
---
MOJO MAGAZINE
No. 282, MAY 2017
R Stevie Moore
& Jason Falkner
4 stars * * * *
Make It Be
BAR NONE CD/DL/LP
A wizard meets a true star to
make wry, omnipop opus.

Nashville-born
lo-fi veteran
Moore's
warped,
profuse
outsider pop is
not for everyone, and a recent
collaboration with Ariel Pink
(2012's Ku Klux Glam) overdid
the woozy whimsey. But power-
pop Zelig Falkner is a different
kettle of (Jelly)fish, and his
sturdy production and
sparkiling melodic contributions
help make this muscular and
diverse swap-meet one of 65-
year-old Moore's most instantly
enjoyable albums to date.
Highlights include I H8 Ppl -- an
uplifting ode to misanthropy
-- and I Love Us, We Love Me, an
addictive dream-popper that's
naggingly alive to the truth
about human self-regard. Yet
it's the range of approaches,
from zesty punk (Stamps) to
hypnotic techno/Krautrock
(That's Fine, What Time?) that
most delights, while, on the
'download card', spoken-word
interludes with Moore riffing
on the absurdity of modern
discourse enhance rather than
occlude the sense of colourful,
creative abundance. A must for
fans of either protagonist, plus
devotees of classic Todd
Rundgren and Ween.
. . . . . Danny Eccleston

www.mojo4music.com/25313/mojo-282-magazine-may-2017-pink-floyd/
---
POPDUST
Music 03/23/17
Review: R. Stevie Moore and Jason Falkner bask in the weirdness on 'Make It Be'

The indie champion and psychedelic rocker write fuzzy, dark melodies on an album packed with fantastic music


by Tom Twardzik

Two artists with prolific and bizarre careers team up to record an 18-song journey through the music playing in their heads that's parts Beatles, Talking Heads, Radiohead, and pure indie weirdness.

Put two excellent musicians and songwriters together in a recording studio for two weeks and the result might not be Make It Be. But put two characters as experienced and strange as R. Stevie Moore and Jason Falkner, who both happen to be excellent musicians and songwriters, together in a studio and the result is this eighteen song exploration of the fearless and often hilariously weird musical stylings of these artists.

Track one, "I H8 Ppl," offers a pretty straightforward introduction to the pair, with strong distorted guitars and a pounding rhythm reminiscent of the best of classic rock. The chorus is cheerful behind the repeated line, "I hate people," and the verses show off Moore's unique vocals. He talks to himself in the third person and exaggerates the deepness of his voice like a radio DJ. But the first three songs remain as close to standard rock as early MGMT or St. Vincent.

The duo makes it clear, though, that they're not satisfied with standard chord progressions. They undermine every classic pop riff and rock melody with a darker twist, a different note or a surprising instrument. Still, the main instruments are the classic rock setup: guitar, drums, keyboards and bass. And fantastic harmonies, sometimes beautiful and sometimes trippy.

The instrumental "Gower" shows off a bit of Radiohead impersonation between the airy "I Love Us, We Love Me" and the funny and cryptic spoken-word "Prohibited Permissions." "Ill-ill-illegal, judge bald eagle, strictly prohibited?" says Moore without any instrumental backing. "Keep it to yo-self."

The music returns with a panicked song about running out of stamps and one of the album's best songs, "Horror Show." The frightening, wonderful vocal harmonies and urgent guitar/drums combination in the chorus are some of the best so far this year. In a complete departure from the increasing experimentation, "Horror Show" is an incredibly catchy and haunting song. The pair is at its best in the verses, too, where the hard-strummed guitar perfectly compliments the vocal rhythm. A contrasting guitar solo leads into the final, siren-like chorus, rapidly building tension until a final climax.

And how to follow this thrilling song? With a quiet instrumental called "Guitar Interplé," the first of two. Contrasts, harmonies, beauty and action, experimentation bound to a solid rock spine—Moore and Falkner craft expert compositions, drawing on decades of experience in diverse careers.

Moore was born in Nashville and since the late 60s has been self-recording and self-releasing music through his R. Stevie Moore Cassette Club. He has sporadically released albums containing some of the cassette material, sometimes with collaborators and often alone. Phonography, his debut album, received huge praise in the indie and punk scenes of the 70s. Now 65, Moore is still releasing genre-diverse and incredibly well-written music.

Falkner started his career with L.A. underground band Three O'Clock and a year after their breakup, joined 90s alt-rock champions Jellyfish. He left after their acclaimed debut to release a solo album, Presents Author Unknown, in 1996. Subsequent albums followed but he stayed busy with constant collaborations with everyone from Beck to Paul McCartney.

Moore and Falkner make their love of the Beatles obvious in their music but they've both also released Beatles cover albums. Moore recorded R. Stevie Moore Plays Songs By the Beatles, and Falkner recorded Bedtime With the Beatles, parts one and two.

The collaboration between the two must have been nearly a perfect match to create an album as rich and fun as Make It Be. Every track rewards multiple listens—they're not all easy to hum along with, at first, but their catchiness grows quickly. Here, a couple standout tracks don't float on top of a half hour of album filler. They're swimming deep in artistic exploration and seriously sharp rock from two masters of the craft.

https://www.popdust.com/moore-faulkner-make-it-be-2324005204.html
---
ALLMUSICGUIDE
by Tim Sendra
The pairing of power pop wizard Jason Falkner and legendary weirdo R. Stevie Moore may at first seem like a strange match, but it's clear right away that the two musicians bring out the best in each other. Falkner's studio wizardry and tight arrangements rein in Moore's predilections for formless noise, and Moore's careening songs give Falkner's sometimes too tightly buttoned-up approach a goose. Make It Be ends up being a true collaboration, full of left turns and great tunes, and ultimately becomes one of the most enjoyable albums in either's discography. Kicking off with the bruising power pop jam "I H8te Ppl," which features some beefy riffing and some cheerfully misanthropic lyrics, the album shuttles between hooky pop songs, electronic experiments, guitar instrumentals, spoken word asides, and a cover of Huey "Piano" Smith & the Clowns' "Don't You Just Know It." The songs are mostly composed by Moore, though Falkner sneaks in an original and the duo co-wrote a few. They split the vocals, too, with Moore mostly sticking to crooning sweetly, though he does let loose with some wild behavior on a couple tracks. Though it's clear that Falkner is deferring to Moore most of the time, the best songs on the album are those that sound like a Falkner solo album, only with weirder songs. The lovely, melancholy "Another Day Slips Away" would have been a highlight on any of his albums; his cover of the old Moore song "Play Myself Some Music" sounds like a modern update of the Beach Boys circa-Sunflower, and the one song he wrote, "Horror Show," shows his songwriting skills haven't dropped off at all. Moore contributes some of the album's highlights, too. "I H8te Ppl" is destined to become an underground anthem for lonely misanthropes; "I Love Us, We Love Me" is a sweet love song that sounds like vintage NRBQ at their poppiest, and while his spoken word pieces can be a bit jarring at first, they do give the album some personality. The record is packed with really fun, great-sounding songs and moments where the guys sound like they're having a blast working together. The only times the album flags a little are on the overly long electronic songs near the end and the cover of "Don't You Just Know It," which really doesn't fit in with the rest of the album. Still, Make It Be is more than a pleasant diversion or an oddball one-off: It's the work of two artists of great worth firing on all cylinders. Fans of both Moore and Falkner should be thrilled by the results.
---
POPMATTERS
R. Stevie Moore and Jason Falkner
Make It Be
BY JEDD BEAUDOIN
29 March 2017

LO-FI LEGEND AND POWER POP GENIUS COLLABORATE ON A ONE-OF-A-KIND LP THAT TICKLES THE BRAIN AS OFTEN AS IT TICKLES THE FUNNY BONE.

R. STEVIE MOORE AND JASON FALKNER
MAKE IT BE
(BAR/NONE)
US: 10 MAR 2017
UK: 10 MAR 2017

Strange bedfellows can make great music together, as evidenced by this collaboration between R. Stevie Moore and Jason Falkner, Make It Be. Moore's impulse-driven lo-fi aesthetic serves as the perfect counterpart to Falkner's thoughtful, refined power pop. It's not so much a second coming of Lennon and McCartney as it is the marriage of Let It Be's rougher, tougher tendencies and Magical Mystery Tour's mind-bending melodies all swaddled in unforgettable hooks that dig in deep and fast.

The opening "I H8 Ppl" exemplifies the melding of these concerns. Fuzzy, buzzy guitars rest on a foundation of steady rocking beats that get the feet moving as much as they get the blood rushing. It's dance music for loners; disco sounds for the self-loathing (or self-loving) set, the perfect way to pass the better part of four minutes. As with the best material from either the lo-fi or power pop worlds, what shines brightest isn't the aesthetics, it's the writing. The former doesn't hurt, however.

"I Love Us, We Love Me" builds and bursts with a brilliance that at times recalls Big Star's "For You", though this track is tinged with a wicked sense of humor that serves as a lovely counterpart to the musical beauty of the thing. There's beauty to be found in the instrumental interludes "Gower (Theme From a Scene)" and "Guitar Interplé", humor to be found in the panicked, punk-ish "Stamps" and a humor-laden vignettes that summon happy memories of Robert Calvert as his most irreverent and wise ("Strictly Prohibited", "Falkner Walk").

In between, there's the triumphant and Who-ish "Horror Show", one of those smart, quirky songs that would not have been out of place on the Nuggets compilation or in the hearts of kids who clamored to the front of the stage during the golden era of psychedelia. A cover of the old New Orleans number "Don't You Just Know It" imagines NRBQ leading a parade down Psilocybin Street in the warmth of the orange sunshine. "If You See Kay/Run For Your Lives!" calls to mind an American version of XTC and/or its secret self the Dukes of Stratosphear.

None of those comparisons is intended to detract from the vision that Moore and Falkner demonstrate here, one that draws from the rich history of rock and pop while moving us all into some territories that others have perhaps considered marching into before thinking the ground too rugged and foreboding. That's the difference, once supposes, between the merely brilliant and those who are brilliant and brave. Moore and Falkner, of course, land firmly in the latter category.

Witness the shift from the aforementioned "If You See Kay/Run For Your Lives" into the gorgeous, meditative "Guitar Interplay Dos" then into a dark, dreamlike place conjured into being by Giorgio Moroder during a bout of the strange ("That's Fine, What Time?"). These twists and turns may not make sense to those listening from the outside but are a warm embrace to the outsider, one keen on blurring the lines between what can be executed and what can be imagined.

That's the line that Make It Be proudly walks. It is not, however, an off-putting experience but instead one that opens its umbrella wide for all who wish to come inside and enjoy the long, strange and thoroughly beautiful trip this record is. That something this smart and beautiful could come from a seemingly unlikely pairing is further evidence that maybe these collaborations should happen more often, that turns of the unexpected can heighten our musical consciousness and enrich our musical experiences.

Put more simply: Make It Be is a fine, fine record that deserves to be heard now and well into the distant future.

MAKE IT BE Rating: 8 of 10 stars

Jedd Beaudoin is host of the eclectic syndicated music show Strange Currency and frequent arts reporter for Wichita Public Radio. He holds an MFA in Creative Writing from Wichita State University, where he is an adjunct faculty member in the School of Art, Design and Creative Industries.

www.popmatters.com/review/r-stevie-moore-jason-falkner-make-it-be/
---
BLURT
R. STEVIE MOORE & JASON FALKNER – Make It Be
Release Date: March 10, 2017
http://www.bar-none.com
4 OF 5 STARS
The Upshot: At times odd, others pristinely poppy, the collaboration ultimately seems perfectly natural.

BY MICHAEL TOLAND

R. Stevie Moore and Jason Falkner may live in different worlds, but they have a lot in common. Both are multi-instrumentalists and songwriters dedicated to the art of the hook. Both are inveterate home studio obsessives, even if the latter can't approach the former's gonzo productivity. Both have a tendency to leaven their pop beauty with varying degrees of eccentricity. The only real difference is that Falkner spends his time in between projects working as a sideman or producer, while Moore – well, Moore doesn't really take time off between projects.

So the duo's collaboration on Make It Be is a perfectly natural one. The give and take on display here indicates the process was organic, with each man assuming the responsibility most logical at the time. Moore contributes most of the songs, with Falkner co-writing five and writing one ("Horror Show") by himself. Though it's impossible to say who played most of what, the smoothness of the performances and arrangements hints that Falkner might've taken on the lion's share of picking and grinning. Certainly the pair shares the vocals fairly equally, with Falkner sweetly singing Moore's tunes with as much conviction as he would his own – cf. "Sincero Amore," "Play Myself Some Music" and "Another Day Slips Away." Moore himself gets in on the action via the first half of "If You See Kay/Run For Our Lives," "I Love Us, We Love Me" and "I H8 PPL," an anthem for cheerful misanthropes everywhere.

Things do take turns for the odd from time to time, from the inner monologue electropop of "That's Fine, What Time?" and exuberant rant of "Stamps" to the off-kilter instrumental "Passed Away Today" and sardonic Moorenologues "Prohibited Permissions" and "Album Drop." But that's not only to be expected, but desired. We wouldn't Moore to play it completely straight all the way through – that would be like a Sparklehorse album without the noise tracks and unexpected bursts of static. Nicely balancing quirk and craft, Make It Be works so well one hopes this isn't the only time this pair swings together.

http://blurtonline.com/review/r-stevie-moore-jason-falkner-make/
---
THE SKINNY
R. Stevie Moore / Jason Falkner – Make It Be
Album Review

★

Label: Bar None
Release date: 7 Apr
Pete Wild | 05 Apr 2017
1 STAR
For a rock/punk/spoken word/experimental hybrid, Make it Be sounds surprisingly… just like you would expect it to. A collaboration between 60s DIY pioneer Moore and former Jellyfish member Falkner, the album runs the gamut from the likes of I H8 Ppl – which wouldn't be out of place on a Hold Steady record – through the Syd Barrett-y I Love Us, We Love Me to genuine oddities like Gower (Theme from a Scene) (imagine an instrumental offcut from The National's Boxer album) and Strictly Prohibited (the talky bit at the start of The Hombres' Let It All Hang Out, only without a killer song to follow it).

In lots of ways it's the gift that keeps giving. Ever wondered what it would be like if Stan Lee fronted a garage punk paean to the post office? Wonder no more. You just have to listen to Stamps. There is psychedelia (Horror Show), ELO-style pop (Sincero Amore) and Kraftwerk-style electronica (That's Fine, What Time?). There's even a spirited cover of Huey Piano Smith and The Clowns' Don't You Just Know It, which is the kind of hilarious ramshackle call and response you can imagine Green Day doing live, at that point in the gig where you're looking at your watch and wondering if it's ok to leave.

It's a melange, then, the kind of thing likely to drive most people half mad. If you've followed either Moore or Falkner, it's certainly a curio. Everyone else – life is way too short.

http://www.theskinny.co.uk/music/reviews/albums/make-it-be-r-stevie-moore-jason-falkner
---
The Vinyl District

Graded on a Curve:
R. Stevie Moore / Jason Falkner, Make It Be
By Joseph Neff | April 11, 2017
Jason Falkner has amassed a long list of credits over the years, but he's primarily known for membership in The Three O'Clock, Jellyfish, and The Grays, plus an extensive solo career. R. Stevie Moore? Well, he's piled up a mountain of freaking records, though technically many are cassettes. What happens when these two team up? A mixture of experimentation, eccentricity, and pop-rock hooks for starters, or Make It Be in a nutshell; it's out now on vinyl, compact disc, and digital through Bar/None.

On one hand, R. Stevie Moore's decades long perseverance as a musician isn't all that surprising; like many before and since, he was simply following in the footsteps of his father. But his dad was Bob Moore, noted sessioneer in the Nashville A-Team and co-founder of Monument Records. Contrasting wildly, Stevie can be reasonably considered the model for the oddball and untamable savants of the home recording studio.

For many, Moore the younger's output begins with Phonography, an LP issued somewhere between 1975 and '78, but he'd been self-releasing tapes through his R. Stevie Moore Cassette Club as far back as '69. Heavily impacted by the Mothers of Invention and the pop-rock benchmark set by The Beatles, Moore can sometimes come off like a weirder pre-Utopian Todd Rundgren with a Zappa-esque/ Bonzo Dog-ish sense of humor.

Armed with a four-track and an unwieldy arsenal of songs, Moore can be considered a key antecedent to Mr. Robert Pollard, an artist with whom he shares numerous Anglo affinities plus an inclination for prog. This is only part of the guy's musical gist; naturally so, as his discography now totals into the hundreds, but the above comparisons remain relevant in describing his work, particularly in relation to Make It Be.

As stated up top, Jason Falkner played in The Three O'Clock, but only on their last album Vermillion; he was also a member of Jellyfish, but only on their debut Bellybutton. Fans of The Grays (which teamed Falkner with Jon Brion, soon to become a producer extraordinaire) know they only cut one album, '94's Ro Sham Bo, before breaking up.

His half-dozen solo full-lengths, pair of compilations, and slew of shorter items are likely to give the impression that Falkner works better as a lone performer, a belief Make It Be happily complicates. The bigger and ultimately more fruitful outcome of this collaboration is a peanut butter and chocolate combo of Moore's eccentricity with Falkner's largely straightforward approach, with pop-rock as the locus; please dig that both Moore and Falkner have released Beatles covers albums.

This isn't the first studio meeting of Falkner and Moore, with the former lending musical and production support to the latter's collab with Ariel Pink, Ku Klux Glam. That release, along with a pair of team-ups with great American eccentric Jad Fair (of Half Japanese) and now this LP, also challenge Moore's status as an insanely productive lone wolf. But if the strangeness is reined in, that doesn't seem to be Falkner's intention, and Make It Be is still an offbeat specimen.

"I H8 People" opens the disc with moderate quirkiness married to hugely hooky hard-driving power pop, the misanthropy undercut by delivery that could rock stadiums. It's followed by "Another Day Slips Away," a crisp serving of Falkner-sung psych-pop (think XTC) that reinforces the ensuing equality of the album. "I Love Us, We Love Me" retains the psych but rocks just a smidge harder, reminding these ears of Rundgren mingled with Britishness a la The Move.

It's "Gower (Theme from a Scene)" that kicks the ball back into Moore's court via interwoven keyboards, incessant rhythmic gallop, a funky bass line, and a surge of pop-prog amp action. It bleeds into "Prohibited Permissions," a spoken passage coming off a bit like Trout Mask-era Beefheart if he was an Englishman wavering betwixt upper-crusty and working class. Next is the post-punkish hard rocking of "Stamps." It's in "Horror Show" that Falkner and Moore's pop-rock inclinations merge together again with resounding success, and it's not difficult to imagine fans of TVT-era Guided by Voices digging it.

"Guitar Interplé" and its counterpart "Guitar Interplay Dos" from deeper in the disc are buoyant, bright, and attractively meandering instrumentals that broaden the overall landscape. They contrast markedly from "Sincero Amore," a post-Fab Four songwriting showcase that could've been a '90s radio hit. Arguably the set's biggest leftfield turn is amongst its most easily graspable, specifically "Don't You Just Know It," a reverent run-through (with just a touch of added zaniness) of the classic from Huey "Piano" Smith and the Clowns.

Speaking of Pollard, the first part of "If You See Kay / Run for Your Lives!" has an even more pronounced UK psych-pop feel, though it's clearly the result of a well-controlled, veteran vision; as evidence, the second part of the song enters weirdsville as Moore expands upon the titular exclamation. It, "Prohibited Permissions" and the late in the sequence goofing around of "Album Drop" are the entries most likely to raise eyebrows in public.

"That's Fine, What Time?" gives the Huey Smith cover a run for its money in the unexpected twist department, momentarily dishing early '80s Euro-dance moves as the instrumental "Passed Away Today" combines a lingering distorted drone and elements of melody to rewarding effect. Between them sits the suitably collector-centric "Play Myself Some Music," the tune reflecting the album's '70s-ish pop-rocking core.

Spurred on by "Album Drop," the structurally rich but mildly off-kilter "I Am the Best for You" and the undeniably out-there "Falkner Walk" see R. Stevie Moore's personality rising forth as the record reaches the finish. It's a fitting, unstrained late stretch on a disc that thrives upon Jason Falkner's focused contribution, with Make It Be likely to stand out in the oeuvres of both men.

GRADED ON A CURVE:
A-

http://www.thevinyldistrict.com/storefront/2017/04/graded-on-a-curve-r-stevie-moore-jason-falkner-make-it-be/
---
SHINDIG MAGAZINE apr 2017
R STEVIE MOORE &
JASON FALKNER
Make It Be
☆☆☆☆ (4 stars)
Bar None CD/LP
In their own peculiar
ways, Moore and
Falkner are outsiders;
whilst the former is a
master of the lo-fi and a
veteran of over 400
releases, the latter seems to be edging ever
closer to creating the perfect pop song. And
in doing so, both rouse feverish dedication
from those criminally low numbers who count
themselves as fans. One could forgive the
belief that this is a combination destined to
failure -- to equal itself out into a willfully
obscure and unworkable mess.
. . . However, the very opposite is true;
Falkner is a new fine-tune dial on Moore's
analogue radio, his fuzz and wonk now
focused into sharp, pop technicolour. Whilst
the whole thing is a pure delight, the highlight
is "If You See Kay, Run For Your Lives", where
Falkner's powerpop touch manages to
resemble his work in Jellyfish, and plunges
the weird shapes of Moore's melodies into a
bath of honey.
Spenser Tomson
---
INNOCENT WORDS
April 1, 2017
R. Stevie Moore & Jason Falkner
Make It Be
(Bar None/Lost Colony) by John B. Moore
"Make It Be" is a Lo-Fi/Power Pop dream team mash up. The album pairs lo-fi legend R. Stevie Moore, who has played on hundreds of albums going back to 1969, with Jason Falkner, who aside from his solo work is best known for the brilliant and short-lived early '90s Power Pop band Jellyfish.

The bulk of the songs here were written by Moore, with one by Falkner and one co-written by the pair. They even pull out a great cover of Huey Smith & the Clown's "Don't You Know It." For those expecting more Jellyfish-esque pop music, "Make It Be" is going to be a shock to the system, but with an open mind you'll realize just how beautiful and beautifully weird this collaboration is. Falkner still brings his jangly guitar to plenty of the songs here, but Moore's influence, in all its experimental glory, is hard to ignore. Despite cramming the record with 18 tracks, you can't help but want to hear more as soon as the album ends, going out on Moore's odd, but just as fascinating, A capella riffing on "Falkner Walk."
http://innocentwords.com/r-stevie-moore-jason-falkner-make-it-be-bar-nonelost-colony/
---
THE GUARDIAN
Pop and rock
R Stevie Moore and Jason Falkner: Make It Be review – loopy lo-fi intrigue
4 / 5 stars

(Bar-None)
Jason Falkner and R Stevie Moore.
Twisty melodies … Jason Falkner and R Stevie Moore. Photograph: Steve Keros
by Gwilym Mumford
Thursday 13 April 2017 16.45 EDT
Prolific doesn't begin to cover the output of lo-fi eminence grise R Stevie Moore, a man who scarcely gets out of bed without releasing an album first. But of the 400 or so releases he's put out over his career, few have been recorded in an actual studio, which makes this latest effort all the more intriguing. For it he's teamed up with Jason Falkner, former member of underloved 1990s power-pop outfit Jellyfish and producer for everyone from Air to Paul McCartney. Recorded at Falkner's own studio, Make It Be sees Moore's idiosyncratic songwriting balanced out by Falkner's polished, precise arrangements. It's a combination that works surprisingly well, with the twisty melodies of Another Day Slips Away and the wistful Play Myself Some Music (a cover of an old Moore song with Falkner on vocals) reminding us that, beneath all of Moore's eccentricities, there's an uncanny knack for locating a killer tune. A certain tolerance for Moore's loopier sound experiments and slam poetry skits may be required here, but for the most part this is an appealing mix of strangeness and sheen.

https://www.theguardian.com/music/2017/apr/13/r-stevie-moore-and-jason-falkner-make-it-be-review
---
MAGNETMAGAZINE.COM
ESSENTIAL NEW MUSIC: R. STEVIE MOORE AND JASON FALKNER'S "MAKE IT BE"
20 April 2017
Ever since his departure from Jellyfish at the peak of the band's brief early-'90s run, Jason Falkner has relished his role as a self-made power-pop iconoclast. R. Stevie Moore's championing of the DIY recording aesthetic stretches all the way back to the late 1960s, gaining underground momentum during the following decade's punk explosion. Unlike Falkner, Moore has never been much for restraint, recording more than 400 albums, many of them on handmade cassettes and CD-Rs. For this 18-track collaboration, Falkner wrote just one song—the tunefully sinister "Horror Show"—and co-wrote five others. He curated many of the tunes from Moore's voluminous, dauntingly diverse catalog. Some were written during the two weeks of recording at Falkner's Rhetoric studio in Hollywood; a few are snippets of studio banter and (accomplished) instrumental noodling. Fortunately, the whole thing is anchored by moments ("I H8 Ppl," "Play Myself Some Music," "Sincero Amore") when Falkner and Moore sniff out a clever hook and match it with a fully fleshed-out arrangement. As one might surmise, Make It Be casts Falkner as the editor/ringmaster of Moore's wonky sonic circus—and the results should connect with fans of the former's innate craftsmanship and the latter's rampant eclecticism. For the rest of you, it's about 70 percent wheat and 30 percent chaff.

—Hobart Rowland

http://www.magnetmagazine.com/2017/04/18/essential-new-music-r-stevie-moore-and-jason-falkners-make-it-be/
---
---
DAMUSIC.BE (Belgium)
R. Stevie Moore & Jason Falkner Make It Be
Bar None Records

R. Stevie Moore, lo-fi-legende en "godfather of home recording" uit Nashville, perst albums en knotsgekke popsongs zoals een kip eieren. Vaak verschenen die op obscure tapes en cd-r's in eigen beheer. Sinds de jaren 2000 tonen de indielabels meer interesse en kreeg Stevie er in Ariel Pink een uitbundige supporter bij. Dat alles komt nu tot een kookpunt met 'Make It Be'. Aflevering vierhonderd-en-zoveel in Moore's discografie, maar wel één die eruit springt.

… en daar zit Jason Falkner zeker voor iets tussen. De man begon zijn carrière meteen op niveau, bij The Three O'Clock. Daarna werd hij een tentakel van Jellyfish en sleutelde hij op de achtergrond mee aan topwerk van Air, Beck, (recent) Syd Arthur en de almachtige Paul McCartney.

Zo belanden we bij The Beatles, een gedeelde passie van Falkner en Moore - die ze in zijn typische absurdistische humor The Beatlegs noemt. Hoe dan ook, Falkner geeft de sound van Stevie nog meer textuur, zonder iets te willen veranderen aan de streken van de oude vos.

Nummer twee Another Day Slips Away is de song die je van deze plaat zult onthouden. Zonder twijfel. Aan de basis: een aanstekelijke beat, eindeloze vertigo's van melodieën en stukjes tekst die zich in je langetermijngeheugen boren: "Days rushing by / moving at the speed of light / like a dream / like a vapor." Een instant classic zoals ze almaar schaarser voorbij waaien.

Het ene moment steelt Stevie als de raven, het andere tovert hij iets geheel onverwachts uit de blauwe baard. En dat is twee keer bedoeld op de best mogelijke manier. Want hoewel je meer dan eens vertrouwde sfeertjes herkent (Beatles! Zappa! Sparks! Surf! Punk!), toch zijn die altijd verpakt in een dikke laag Stevie Moore-bubbelplastiek.

Aan de andere kant van de grote Moore- en Falkner-worstmachine komen dan wonderlijke songs piepen. Zoals Stamps, Sincero Amore, I Am The Best For You (trage Motörhead?) en Play Myself Some Music, dat deels lijkt weggelopen uit 'Oddysey And Oracle' van The Zombies, deels uit 'Mummer' van XTC. Waarin schuilt de Falkner-touch? Vergelijk de nieuwe versie met de originele uit 1986.

De lp-versie van 'Make It Be' - opnieuw een knipoog naar The Beatles? - presenteert het album in zijn zuiverste vorm. Op de cd-, download- en streamversie krijg je er nog een zevental, niet altijd even essentiële, instrumentals en gekkigheden bij, zoals de minimalistische wave van Passed Away Today. Vreemd genoeg is het de hilarische spoken word op Prohibited Permissions die we het hardst missen op vinyl.

R. Stevie Moore stond wellicht nooit zo in de schijnwerpers als vandaag. 'Make It Be' bulkt dan ook van fun, geinige woordspelletjes en zelden gezien popmanschap. Het bewijs dat de weg van home recording naar wereldplaat klein kan zijn.

2 mei 2017
Fabian Desmicht

(English translation):

R. Stevie Moore, lo-fi legend and "godfather of home recording" from Nashville, squeezes albums and crazy pop songs such as chicken eggs. Often appeared on obscure tapes and CD-Rs independently. Since the 2000s indie labels show more interest and Stevie got there in Ariel Pink exuberant supporter at. That everything comes to a boil with 'Make It Be'. Episode four hundred-and-so many of Moore's discography, but one that stands out.

... Jason Falkner and there is definitely something to do. The man began his career immediately to level at The Three O'Clock. He then became a tentacle of jellyfish and he tinkered in the background along with major work by Air, Beck, (recently) Syd Arthur and the almighty Paul McCartney.

This brings us to the Beatles, a shared passion Falkner and Moore - she mentions in his typical absurdist humor The Beat Legs. Anyway, Falkner is the sound of Stevie additional texture, without wanting to change anything in the regions of the old fox.

Number two Another Day Slips Away is the song you'll remember this record. No doubt. The basis: a catchy beat, endless vertigo of melodies and bits of text that drill into your long-term memory: "Days rushing by / moving at the speed of light / like a dream / like a vapor." An instant classic as ever scarcer blow over.

One moment Stevie steals as the raven, the other he conjures something completely unexpected from the blue beard. And that is twice referred to in the best possible way. Because even though you recognize more than once familiar atmosphere cushions (Beatles! Zappa! Sparks! Surf! Punk!), Yet are always wrapped in a thick layer Stevie Moore-bubble plastic.

On the other side of the big Falkner Moore-and-sausage machine will then squeak wonderful songs. Like Stamps , Sincero Amore, I Am The Best For You ( slow Motörhead?) And Play Myself Some Music , which seems partly run away from 'Oddysey And Oracle by The Zombies, partly from "Mummer" ecstasy. Wherein lies the Falkner-touch? Compare the new version with the original 1986.

The LP version of 'Make It Be' - another nod to The Beatles? - presents the album in its purest form. On the CD, download and stream version you get a seven, not always essential, instrumentals and oddities in as the minimalist wave of Passed Away Today . Oddly enough it's hilarious spoken word on Prohibited Permissions miss we hardest on vinyl.

R. Stevie Moore had probably never been in the spotlight as today. 'Make It Be' also brimming with fun, amusing word games and rarely seen Popma shelf. Proof that the road from home recording to world record can be small.

May 2, 2017
Fabian Desmicht
---
---
MEDIUM.COM
Thomas Gerbasi
Editorial Director for Zuffa (UFC), Sr. editor for BoxingScene, and writer for Gotham Girls Roller Derby, Boxing News, and The Ring...WOOOO!
May 9
Falkner and Moore follow their muse to a place few will go to these days

Make It Be, the album stemming from the collaboration between R. Stevie Moore and Jason Falkner, is unlike any album you will hear this year.

That's a good thing, and not just for musical reasons. Because in releasing a record with songs like "I H8 Ppl," "Sincero Amore," and "If You See Kay / Run For Your Lives!" in 2017, Moore and Falkner have given us a beautiful escape from a world that needs some humor and an appreciation for irony.

"The humor and the irony thing is something that I agree is completely forgotten," Falkner said. "Also, the gamut of emotion and spirit of our record is such a wide spectrum. There's some scary stuff, talking down to people, raw and open vulnerability, and there's so much going on. It's certainly not a Ramones record, where it's kind of a one note thing. And I love that. It's something that I have always aspired to do, even within the context of a single song. I'll go from something snarky and kind of post-punky to something very sweet and sentimental from a verse to a chorus. So I've always loved that and Stevie is definitely the same way."

Both established in the music business on their own, Moore and Falkner initially found common ground through MySpace, of all places.

"When I first started using social media to communicate, it never dawned on me that I could reach out to people that I admire," laughed Falkner. "I thought I could only use it for people that I know."

Falkner would go on to work with Moore and Ariel Pink in Los Angeles on their 2012 Ku Klux Glam release, with Moore telling Falkner, "We have to make a duo record."

Eventually, "Lo-Fi Legend" Moore and Falkner, one of power pop's true treasures, teamed up to make that record, and while the final product proves that it worked, many were surprised by the initial news that the two were making music together.

"Most people are baffled by the collaboration, but I've always been an experimental person at heart," Falkner said. "Whether that's in the forefront of the mixes of my output or not, it's always in there. There's a dichotomy happening with me that has run the course of my career, which is that it's kind of a controlled chaos and the control is probably because inherently I'm very chaotic. (Laughs) I try to control that a little bit by making this kind of pristine art, but in that is a lot of experimentation and sloppy chaos. So it's not as shocking as people would think if they knew the whole story about both of us. Because Stevie is a pop perfectionist, which you might not know from his output."

Falkner also reveals that Moore is a versatile musician as well.

"He's a phenomenal musician. A lot of people who are great songwriters aren't necessarily the best musicians, and that certainly goes for singing. But every instrument that guy picked up, he was just a master of. It was like watching an eight-year-old Stevie bouncing around and going through these instruments. (Laughs) He was so stoked. It was beautiful."

So is Make It Be in its own unique way. You may not love every song, but the ones you do, you will love a lot, and the ones you don't will probably appeal to someone else. In short, it's the perfect record that won't get appreciated by the public at large, and that's fine with Falkner.

"The last thing I'm thinking of when I'm making a record is present tense," he said. "I'm not sitting around listening to current bands, I'm not referencing sonic mixes from what's happening on modern radio at all. I'm listening to the Sweet all the time still. I think that maybe it's time that people finally get what people like Stevie and I are doing, of course in our own way."

They should, but they probably won't. It's not safe or boring enough for radio, and despite both having track records in the business, Moore and Falkner aren't about to go chasing glory among the mainstream. It's a stand you have to respect both for making, even though Falkner laughs when saying that, "It's not the smart path to take. It's not the financially stable path to take, that's for sure.

"But again, it goes along with what's in my mind when I'm making music and it has nothing to do with any keeping up with the Joneses kind of thing," he continues. "And that is crucial if you're commercially intelligent about your career. You have to do all that stuff and have to work with other people. There's nary an example anymore of a singular vision hitting the top of the charts. That's not gonna happen because there's such a committee now. And the things that are propelled to the top, there's so much money behind it, and your online presence has to be relentless, and those are things that I'm just not willing to do. So I guess it's not difficult to take this path; I'm just following my instincts and working with people that I like."

It's impossible not to appreciate an artist sticking to his guns like that, especially when he could be doing anything else with his talent instead of following those instincts. But Jason Falkner isn't going to change.

"Financially, of course, it's a very tempting thing, but soul wise and emotionally, it's not even on my radar," he said. "I don't pursue it at all and that level of thing doesn't just come to you. You've got to chase that down because everybody is clamoring for that. I'd rather just keep doing what I'm doing."

https://medium.com/ko63-music/falkner-and-moore-follow-their-muse-to-a-place-few-will-go-to-these-days-a8425db0afbb
---
---
HIGHWAY81REVISTED.COM
JASON FALKNER ON NEW ALBUM WITH R. STEVIE MOORE, WORKING WITH PAUL McCARTNEY, BECK
Interview
Michael Lello
May 14, 2017

Jason Falkner is a long-time member of Beck's band who has collaborated with the likes of Paul McCartney, Glen Campbell and Air. But the opportunity to work with lo-fi legend R. Stevie Moore was a big deal, even by Falkner's standards. Earlier this spring, the duo released the studio album "Make It Be," which combines Moore's off-the-wall approach with Falkner's pop sensibilities, which first came to notice during his membership in the '90s power pop band Jellyfish.

We recently reached Falkner at his California home to chat about his partnership with Moore and working with some of music's biggest names.

What did you know about R. Stevie Moore before you started working with him?

I first became aware of him via that 10-inch record called "Revolve." I saw that in a record shop here in LA that was closing, just trying to get rid of all their inventory. I saw this wacky record cover of the Beatles' "Revolver" with this odd-looking man with octagonal glasses and said "What the hell is this? I'll definitely take that!" And I went home and kind of freaked out about how good it was. I had never heard him prior to that. There was kind of a public-access quality to it (laughs), very homemade. But I loved it, so I then just started to find his vinyl and original pressings of "Phonography" and "Delicate Tension" a few years later.

I remember one of the early things that Ariel Pink and I talked about, who's been a friend of mine for like 18 years or something, and he was playing stuff of (Moore's), and I was insanely blown away by his home-recording stuff. Driving around one very, very early morning, and I was like, "What are you into?" and he said, "I'm really into metal and this guy R. Stevie Moore," and holy shit, he was the only guy I've heard mention that name. That was kind of a bonding thing for Ariel and me and also solidifying my impression of R. Stevie Moore.

How did you and RSM meet?

I guess back in the early days of MySpace, I believe Stevie sent me a message, and I'm not really of the generation that gives a shit about social media and stuff, and I kind of still don't, but it never dawned on me you can reach out to people you are fans of. I thought it was just for people you know. So when Stevie reached out to me, I was like, Oh right, I can reach out to like Tom Verlaine and stuff. We kind of started a mutual admiration society back then and sending each other notes. He still sends me these amazing care packages of crazy releases of his over the decades.

Then he came out here to do the "Ku Klux Glam" thing with Ariel [Moore and Pink's 2012 album], that's what basically planted the seeds to do a duo of our own. I was just kind of helping them, playing drums and some guitar and recording it and mixing it. We said, We gotta do one of these too.

You've collaborated with a lot of musicians over the years. What is unique about working with Stevie?

I mean, there wasn't really any kind of new approach that I kind of gleaned from Stevie or anything. Some people are saying "Jason legitimized Stevie's thing" and "Stevie opened up Jason's weirdo cabinet" or whatever, and that's just lazy shit right there. I always had that aspect to what I do that is wildly experimental, it's just not at the front of the mixes. If you listen back to my first solo record, there's a lot of weird meandering-sounding stuff in the context of a well-packed song. That's something that's always been very important to me. I want something tugging at it, fucking with it. I didn't legitimize shit. I just might have made the best sounding recording that he's been involved with. It's still a very lo-fi record. It's kind of mid-fi, like hi-fi from 1976, which is not hi-fi by today's standards.

What was it like working with Paul McCartney on his album, "Chaos and Creation in the Backyard" (2005)?

That was obviously insane. I'm not really like a session guy. I don't do 80 percent of the session stuff I'm called about. I don't really enjoy doing it that much, but of course depending on the project; when the Paul McCartney thing came around, it was a no-brainer.

I have tons of cool amps and pedals, but I don't always know if they're working, unlike a session guy. I showed up at Ocean Way Studio and I had like a '58 Fender Vibrolux Tweed Fender Amp but again didn't really know if it was working properly. I brought like a Fender Super Reverb as well. So I knew that McCartney was going to show up. I showed up around 10, and he showed up at 12. I check out that amp, and it sounds phenomenal. But I didn't have a tuner with me. That's not very professional, so I started getting like insecure. Then I get this tap on my shoulder, and it's Paul, he's right in front of me. I thought I was mentally prepared to meet Paul McCartney; I'd met some gnarly people, the fact is, he's the most gnarly. As soon as I look up, he says, "You must be Jason." I literally got what people describe as the elastic knees, I thought I was going to fall over. …

It was just my station, we had a grand piano, Wurlitzer, my basses and guitars and all pedals and a chair facing Paul's station with grand piano and Wurlitzer. Basically, they were mirror image stations. So right away he says, "Let's get into it." He started playing something on acoustic guitar or piano, and we just learned the thing and started recording it. Within an hour of meeting him, we were recording. I was playing acoustic and he was playing bass — and yes, it was his Hofner bass — and James [Gadson] was playing drums, and it was maybe the second of third pass at this tune, and I completely knew it. But I looked up, and I kind of got lost in the song, and I look over and Paul is doing that thing where he's trying to get my attention, and he mouths, "Where are we?" I had fucking no idea, I just totally fell apart. It was hilarious.

And obviously you've been working with Beck for 20 years.

We met like way back in the "Odelay" days, or maybe right after "Odelay." Whatever that is, '97. And I used to see him at parties. He was like, "Yeah man, we should do something together," and I thought he meant both of us as artists, but he more meant I should join his band (laughs). I kind of resisted that for a long time.

I guess the first recording I did for him was "Paper Tiger" [from 2002's "Sea Change"]. That was a very successful first thing we worked on together. I remember the first day I was in the studio with him, I was making some suggestions for arrangements, and he liked them. Other guys in the band were looking at me like "you dick," they thought maybe I was getting special treatment in their eyes. And I've been on every record of his since then, and I'm not playing on the new one he's working on. The first thing I did with him live was "SNL" and Letterman in the same trip. That was for "Sea Change."

What else are you working on now?

I'm doing my solo record right now, my fifth solo record. And I'm going to be producing this guy Pugwash. He's a friend of mine from Ireland. Then Beck touring stuff in the summer.



---

highway81revisited.com/jason-falkner-r-stevie-moore-interview/
---
---
some GOLDMINE BLOGGER, May 30 2017
R. Stevie Moore & Jason Falkner – Make it Be (Bar/None)
The sticker on the cover of Make it Be tells us that R. Stevie Moore is a lo-fi legend and Jason Falkner is a power pop pioneer. While "legend" and ""pioneer" might be stretching the truth just a touch, both artists have certainly released some very cool records over the course of their careers and now the unlikely duo has recorded this sprawling 18-track collection together. When Falkner is able to keep Moore's eccentricities in check – as on "IH8 PPL," "Another Day Slips Away," "Horror Show," and a handful of others – things go splendidly. But when they throw in a weird-ass dance number ("That's Fine, What Time?"), a 5:41 atmospheric instrumental that goes nowhere slowly ("Passed Away Today"), and some bizarre RSM spoken word bits, things head south in a bit of a hurry. Still, the bulk of the tunes are…well, tuneful…with most written by Moore. And a not-quite-unhinged version of Huey "Piano Smith's "Don't You Just Know It" is pretty fun stuff. Grade: B+
---
---
ROCKERZINE.COM
R. Stevie Moore & Jason Falkner: Make It Be
by Ian Rushbury | Jun 2, 2017 | All Stories, Featured Music, Music, Music Reviews
An unpredictable pairing produces everything you didn't expect.
In 1996, R. Stevie Moore released his 113th album. It was called "The Day the Earth Stood On Stilts". That's kind of all you need to know about him. Mr Moore's discography is littered with gems like that…" Pleasant Tents", "Embarrass Paris", "Phlegm Soundtrack" ….the hits just keep on coming. The man has a sense of humour and a hell of a work ethic. In the time it's taken me to write this first paragraph, he's written another two albums.

His latest release "Make It Be" is a lot of fun. Co-conspirator Jason Falkner (ex-Jellyfish) has added a sheen of professionalism to Mr Moore's Lo-Fi sensibilities without ironing out too many of his more interesting kinks. It's got a lovely "Captain Beefheart meets Badfinger" sort of vibe. And if that sort of thing appeals to you, you can be my friend.

All tracks crossfade into each other, with bizarre spoken word rants dovetailing into jazzy instrumentals and cool power pop tunes rubbing up against Huey "Piano" Smith covers, knitting together some of the more disparate sounding pieces with the more traditional. Market that, Mr Record Company Executive! Falkner is an inspired choice for a collaborator, having a strong pop sensibility and a very useful multi-instrumental skillset. These tunes have had their hooklines pushed to the fore and they sound all the better for that treatment, but there's still a heapin' helpin' o' weirdness: "That's Fine, What Time?" sounds a bit like Yello, which is not a comparison I thought I'd make in 2017. "I Hate People", "Sincero Amore" and "I Love Us, We Love Me" are grade-a pop-rockers, but with a really appealing edge – but then you get "Passed Away Today" which sounds like the soundtrack to some avant garde splatter movie. "I Am the Best For You" is probably the best meshing of the two musicians – Moore rants while Falkner underpins it like a badass.

I'm always sceptical about these kind of collaborations – I mean, how lame was "The Simpsons Meet Family Guy" special? I know, right? Rest assured, there's enough DIY weirdness to keep Moore's fans happy and enough pop hooks to keep Falkner's aficionados from pulverising their Jellyfish CD's with a lump hammer.

Is this album worthy enough to be ranked alongside some of Mr Moore's previous work like "I'll Say it's My Fault", "Herculean Rationale" or "Errorism"? You decide. But it definitely is.

https://www.rockerzine.com/2017/06/reviewed-r-stevie-moore-jason-falkner-make/
---
---
KNOXNEWS.COM
"Make It Be," R. Stevie Moore & Jason Faulkner (Bar None)

R. Stevie Moore has been a champion of do-it-yourself rockers for decades now. Moore, who is the son of legendary Nashville A-Team studio musician Bob Moore, gained notoriety early in his career by starting a monthly tape club in which he would record an hour's worth of music each month and mail it to fans. It was eccentric. Some of the music was terrific. Some of it not so great. But, it was never less than interesting.

R. Stevie Moore (right) and Jason Faulkner teamed up for the new album "Make It Be." (Photo: submitted)

Since that time, Moore has become an outsider hero, collaborating with Jad Fair of Half Japanese, Dave Gregory of XTC, MGMT and many others.

Jason Faulkner is an almost perfect collaborate partner for Moore. Faulkner first proved his prowess for catchy power pop and thoughtful rock with the band Jellyfish and has since gone on to a cult-status solo career with his own self-made albums.

Faulkner and Moore share a love of Beatles-style rock 'n' roll and pop perversity and make it work throughout the new album "Make It Be."

There's a plenty of likeable rock, some electronic music, acoustic guitar noodling, moody instrumentals, a taste of Moore's poetry and talk and plenty of nice melodies with not-quite-right lyrics.

"Make It Be" by R. Stevie Moore and Jason Faulkner (Photo: submitted)

Highlights include Moore singing the hooky "We Love Us" and Faulker interpreting Moore's "Play Myself Some Music," "Horror Show," a particularly nice alt-rock, with a hint of psychedelia, and a loosey-goosey cover of the Huey P. Smith classic "Don't You Just Know It."

Moore has always been a star in his own mind and, over the years, he's become at least a star in the eyes of a select group of people. "Make It Be" is another example that Moore's opinion of himself wasn't so far off the mark.
http://www.knoxnews.com/story/entertainment/2017/06/02/chuck-berrys-final-album-stevie-moore-star/360549001/
---
---
AMAZON.CA
Moore Pop than you!
Customer rating 5.0/5.0
Aug. 24 2017 By stereomolehill
Amazon Verified Purchase

What seems like it shouldn't work really works better than anyone may have expected. Jason Falkner is known for solid and tight production. R. Stevie Moore is known for painstakingly multi-track recording by pretty much any means possible. How they meet in a perfect way is the fact that each is a brilliant songwriter and musician in their own right.

Stevie is the Godfather of home recording, having self-recorded and released hundreds of albums. Having a fan/friend like Jason Falkner in your corner and ready to make a record with you is something you'd be silly to turn down!

From the opening exclamation of "Warm regards!" preceding I H8 Ppl to the closing of the record where we're told "love is the answer, music is the question, life gets in the way" (on the LP, not the CD), this record is pure R. Stevie Moore as much as it is pure Jason Falkner.

It's an obvious labour of love between the two, and you can really hear their hearts poured into it!

Comprised mostly of RSM tunes, it features a couple of co-writes with Jason (and Stevie's childhood pal Roger Ferguson) as well as one original from Jason, and an absolutely fabulous cover of Huey "Piano" Smith's Don't You Just Know It. Great Pop and a little experi-mental at times, it's a rollicking ride from beginning-to-end which leaves you wanting to flip the record over to side one again once you're done listening.

You may even notice things here and there upon further listens.

Oh, and try and find the straight-up XTC reference in there...
---
---
OTHER REVIEWS:
www.thatdevilmusic.com/2017/02/odd-fellows-r-stevie-moore-jason.html